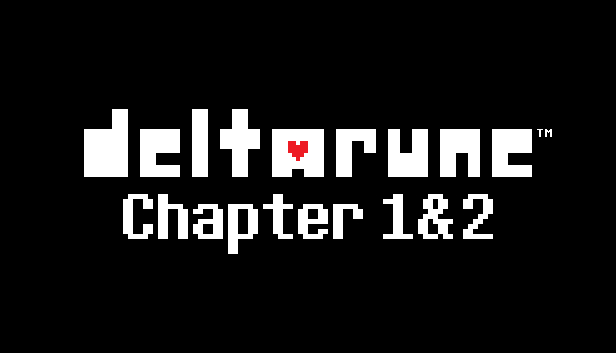 DELTARUNE
Here to download the game? Download Chapter 1 & 2 for free now using the orange "Download" button at the bottom.
Chapter 1&2をダウンロードしたい方は、このページの下にあるオレンジ色の「Download」ボタンをクリックして下さい。
OK, now onto the description...

The next adventure in the UNDERTALE series has appeared!
Fight (or spare) alongside new characters in UNDERTALE's parallel story, DELTARUNE...!

Featuring
A massive soundtrack and story written by Toby Fox!
Meet new and endearing main characters, as well as familiar faces like Toriel, Sans, as more. Huh? Papyrus? No, he's busy. Sorry
Smooth and expressive pixel-animation by Temmie. She also has a new hat (in-game)
A linear, chapter-based system that you can pick up from anywhere.
Creative bullet-dodging based battles inspired by games like Touhou and Chrono Trigger.
Jevilishly difficult hidden bosses.
And...
...
... only 1 ending...?
Chapters 3-5 are now in development and will someday be available as a paid release. Follow the official twitter for extremely sparse up to date info!


Want to support the game? Buy the soundtrack!
Download
Install instructions
DOWNLOAD INSTRUCTIONS ---
Click the orange button that says "Download" for your OS.
Windows --
Save the file to the location you want. After that, right click and choose "extract all." In the folder you extracted the file to, double click on "DELTARUNE Chapter 1&2".

Note: A blue poppup may come up saying the program will harm your computer. Press "More info" on the left then choose "Run anyway." Have fun!
Note: You need DirectX installed for the game to work.
OSX --
Drag and drop the app into your "Applications" folder before running it.
If that doesn't work, try downloading it on Steam.

ダウンロードの手順
お使いのOS向けのオレンジ色の「Download Now」のボタンをクリックして下さい。
Windowsの場合---
お好みのフォルダにファイルを保存。ダウンロードが完了したら、ファイルを右クリックして「すべて展開」を選択。展開したフォルダの中のファイルのうち、「DELTARUNE Chapter 1&2」をダブルクリックして下さい。

注意:青いポップアップウィンドウが現れて「WindowsによってPCが保護されました」「このアプリを実行すると、PCに問題が起こる可能性があります。」と表示されるかもしれません。その時は左側の「詳細情報」をクリックしてから「実行」を選んでください。どうぞお楽しみください!

注意:ゲームを動かすには、DirectXがインストールされている必要があります。
OSXの場合 ---
アプリケーションフォルダにダウンロードして下さい。そのあとで、ZIPを解凍してアプリケーション(DELTARUNEという名称の、アイコンがハートマークのアプリ)を実行して下さい。
うまく行かない場合は、Steamからダウンロードを試してみて下さい。

--
Need support?Questions? Check this out:https://deltarune.com/help/